ABOUT
ASIA EXPANSION
Delivering powerful performances to the world.
Developing live viewing business in Asia
We have permanent distribution infrastructures in a total of 19 cinema complexes in 5 regions : Taiwan, Hong Kong, Korea, Singapore, and Thailand. Using the most high-tech transmission technology, we are able to deliver high quality images to overseas fans, to experience the real time live events. We are able to live broadcasts with partners all over the world, including major broadcasting companies in Asian countries.
The most high-tech distribution technology,
moved overseas fans beyond time and distance.
Our own transmission equipment and dedicated lines are permanently installed in movie theaters located
in the capital cities of Asian countries that have the capacity to draw large crowds, so that we can conduct live viewing
with the same sense of realism as in Japan with a short lead time without having to make temporary arrangements for lines.
We can deliver content safely and securely with high security, as well as achieve a cost performance that no other company can match.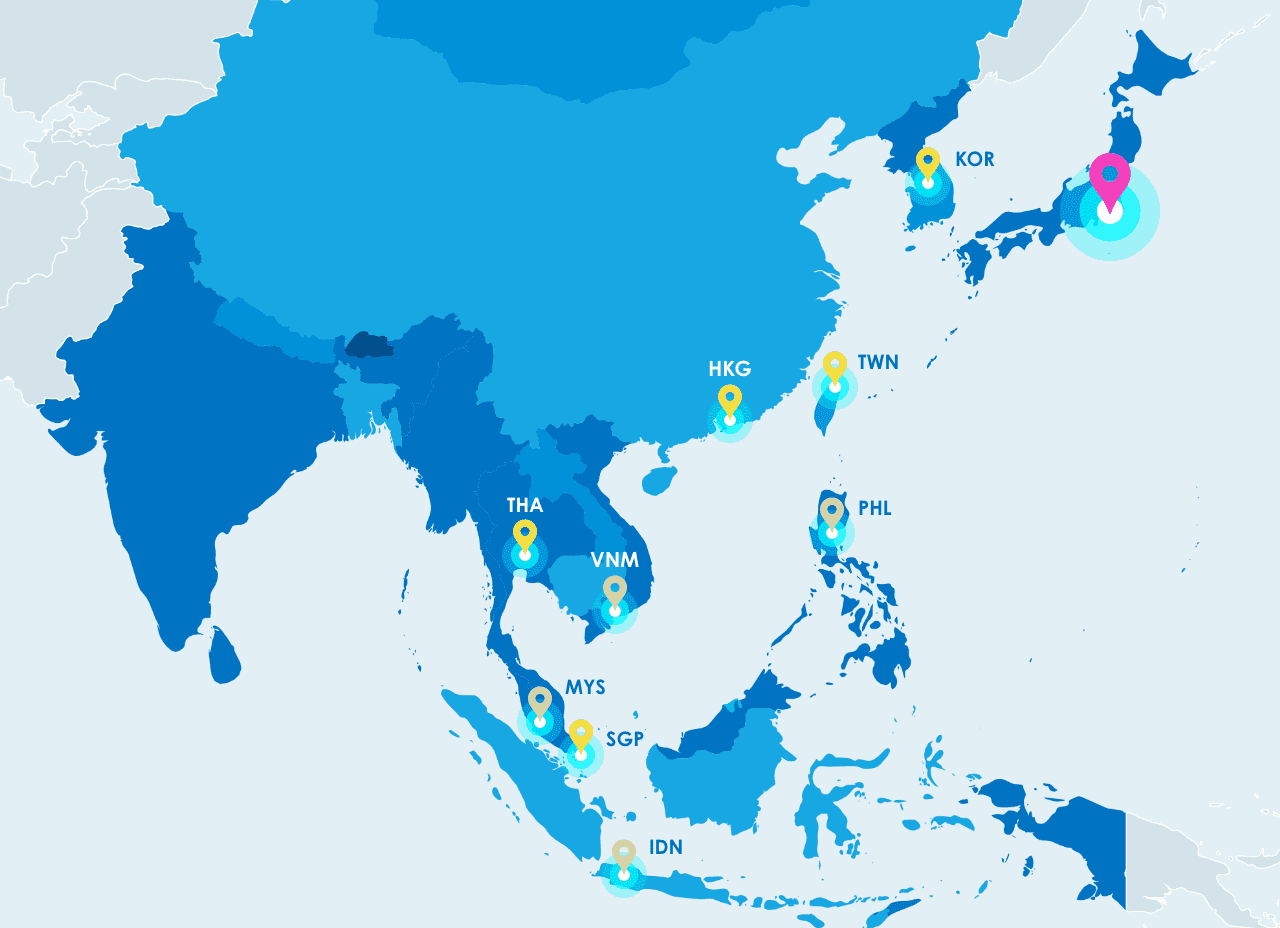 Malaysia, Indonesia, Philippines, Vietnam are in preparation.
Region/ Cinema
Taiwan, Hong Kong, South Korea, Singapore, Thailand, *Malaysia, *Indonesia, *Philippines, *Vietnam
(* currently in preparation)
Region
Cinema
Taiwan
Taipei
Vie Show Cinemas
Taipei Hsin Yi
Taipei
Vie Show Cinemas
Taipei Qsquare
New Taipei
Vie Show Cinemas
Linkou Mitsui Outlet Park
Taoyuan
Vie Show Cinemas
Taoyuan Tonlin
Hsinchu
Vie Show Cinemas
Hsinchu FE21
Taichung
Vie Show Cinemas
Taichung Tiger City
Tainan
Vie Show Cinemas
Tainan FE21
Kaohsiung
Vie Show Cinemas
Kaohsiung FE21
Hong Kong
New Territories
MCL Movie Town
Kowloon
MCL Telford
Kowloon
GH the sky
Kowloon
Broadway The ONE
Korea
Seoul
CGV Yongsan I'Park Mall
Seoul
CGV Wangsimni
Seoul
CGV Yeongdeungpo
Busan
CGV Seomyeon
Gwangju
CGV Gwangju Terminal
Singapore
–
Golden Village VivoCity(In Preparation)
–
Golden Village Plaza
Thailand
Bangkok
Paragon Cineplex
Malaysia
–
COMING SOON
Indonesia
–
COMING SOON
Philippines
–
COMING SOON
Vietnam
–
COMING SOON
Live Viewing Japan's original technology
Technology that uses a high-grade Internet connection
High-quality video/audio(H.265 / PCM,AAC)

High security is assured

Safety and security assured via mesh streaming

Constant monitoring of jitter in optical lines over transmission route

Live broadcasting unaffected by local bad weather is possible

Always-on environment eliminates the need for preparation time

Effectively cuts transmission costs during live broadcasts
MARKETING RESEARCH
Also useful for practical marketing research
Live broadcasts of events such as concerts and theatrical performances can be delivered within Japan at quality comparable to domestic live performances, helping us gain many potential fans. Live viewing can also be used for marketing research as a prelude to overseas expansion, which usually involves significant costs.